Overview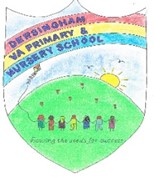 We, the Governors of Dersingham VA Primary and Nursery School are proposing to close the satellite site at Saxon Way (old Infant School), as marked in the diagram below.
In 2013, the Infant and Junior Schools became one school called Dersingham VA Primary and Nursery School.  As part of this process, the Infant School on Saxon Way formally closed. 
From 2013 to 2020, both school sites were used.  However, since 2020 (with the exception of one lockdown), all the pupils have been on one site on a daily basis.
This has been possible due to the school now having fewer pupils, which means that they can all be accommodated on one site, making the satellite site at Saxon's Way surplus to requirements.  The Published Admission Number has been reduced to 30 pupils (down from 45), in recognition of the lower numbers of children in the area.  The other factor to support closure of the satellite site is the cost to the school to pay for the upkeep of the building and grounds that aren't any longer being used. 
Give us your views